The multimillion-dollar public art commissions have been funded by the Art Gallery of NSW Foundation and Sydney's leading philanthropists, whose names will be revealed when the works are officially unveiled.
But they are thought to come from wealthy donors who contributed $109 million towards the construction of the expanded gallery museum, taking shape alongside its sandstone galleries.
On the wall of the new Yiribana Gallery, showcasing Aboriginal and Torres Strait Islander art, Connelly-Northey will reuse rural materials like rusted wire, corrugated iron and other salvaged objects to create an epic collection of bags of narrbong-galang.
Simryn Gill creates a work for Sydney Modern that features a life-size rubbing of a Canarian date palm planted in 1906, which has been removed to make way for the new galleries.
Wiradjuri-Kamilaroi artist Jonathan Jones has created an artwork that connects the new and existing gallery buildings, details of which have yet to be revealed.
Jones was the artist behind the Hyde Park Barracks installation (maraong manaouwi), which created emu footprints in the stones of the forecourt.
Tokyo-based Yayoi Kusama has created an "exuberant floral sculpture" visible day and night, which will be placed prominently on the terrace of the new building overlooking Woolloomooloo Bay.
Melbourne-based multimedia artist Richard Lewer has gone behind the scenes of the Sydney Modern project to create a multi-panel painting celebrating the personalities of those who helped build Sydney's new landmark.
Women's stories and their place in the development and history of art will take center stage in Sydney Modern, said Deputy Director Maud Page.
Builder Richard Crookes has entered the final stages of construction with work underway on interior walls, elevators, escalators, decks and patio canopies, as well as exterior and interior finishes.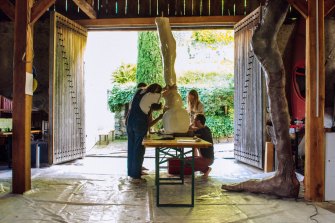 Delivery is expected in the coming months with an opening to the public by Christmas.
These first commissions are in line with the Tate Modern, which since its opening has invited artists to activate its cavernous Turbine Hall.
by Ai Weiwei Sun-flower seedshandmade from porcelain, and Kara Walker Funds Americanus, a distorted replica of the Victoria Memorial in front of Buckingham Palace, helped attract unprecedented numbers of visitors to the London gallery.
Loading
Page is hoping for the same level of commitment, foreshadowing the announcement of new orders and acquisitions ahead of the opening of Sydney Modern.
The new orders "provide humor and challenge; they confront, stimulate and delight, powerfully heralding new histories of art," she said.
"Artists talk about where we are now and are acutely aware of the paths we've taken to get here.
"They remind us of what it is to be human today, as many of the Sydney Modern Project commissions intertwine with pressing social issues."
Prior to the opening of the new Art Gallery of NSW museum building, the gallery reviewed its collection to determine priorities for growth, research, interpretation and exhibition, with gender diversity becoming a priority.
"The Sydney Modern Project has given us a rare opportunity to reconsider received artistic narratives and highlight the central role of women artists throughout the development of Australian and international art," said Page.
A cultural guide to go out and love your city. Sign up for our Culture Fix newsletter here.