ALEXANDRIA, VA – The King Street Art Gallery Galactic PantherIn coordination with ESP Tea & Coffeewill hold a closing reception for its most recent exhibition MARK MOTHERSBAUGH & Artists Who Rock on Sunday, December 12.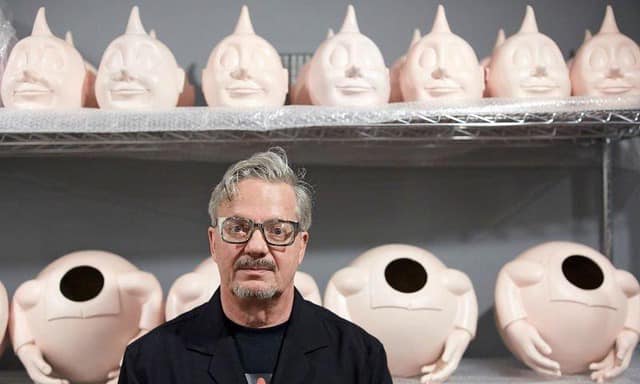 Mothersbaugh is a Conceptualist, using her ideas and inspirations to drive her designs. His mediums range from rubber stamps and oil paints to ceramic sculpture, video, and the occasional hotel wall art "fixes." While touring with his band #DEVO, Mothersbaugh would often embellish the relatively jaded paintings that fill the walls of his hotel rooms, leaving little bits of his experimental musings wherever he stayed.
On the final day of the Mothersbaugh exhibit at Galactic Panther, viewers will find pieces "from around the corner and around the world", according to gallery owner and artist Eli Pollard, drenched in eclectic color and charisma.
The reception will take place on December 12 from 2-5:30 p.m. at 1303 King St, and will also feature live music from musician and artist Francisco Amaya, whose artwork will also be among the gallery's highlights. Other artists in the gallery include Mark Mothersbaugh, of course, Lael Neale, Dionyso's Arringtown, Kate Parnell, SAM GAS CAN, Derrick Buisch, Zen Xaria, John Adam Fahey, Eddie Harris, Craig Philip and many more.
Reception is free and open to the public and will be supported by local establishments. This is the perfect opportunity to shop locally for that perfect gift for the art lover in your life.
When one exhibit closes, another opens. The next exhibition at Galactic Panther will be the group exhibition NEW HUE. An opening reception will be held on December 17 from 6 to 10 p.m.
The Gallery is open Thursday from 12 p.m. to 5 p.m. and Friday to Sunday from 12 p.m. to 6 p.m.; it is also open by appointment.
Join us Sunday on King Street to discover incredible artwork, artists and holiday shopping opportunities (for someone else or for yourself)!


Post views:
317